Jun, 15 2018
New investment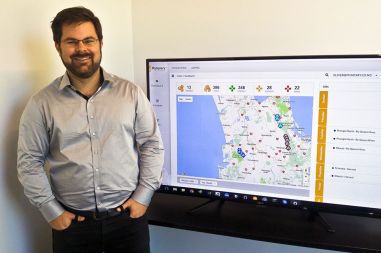 New investment from Gallagher a sweet step for smart tech firm MyApiary.

The Apiculture industry is soon to benefit from a range of smart beekeeping solutions from start-up technology company MyApiary. Gallagher and software company NetValue Ltd are part of a group of investors that have seen the potential within the industry and put their weight behind the young Hamilton-based company.
"Many of the best breakthrough ideas come from individuals and small start-up companies. We're actively looking to get involved with start-ups with good ideas where we can add value, leveraging our experience in the innovation and product delivery process including research & development, marketing, logistics, distribution and sales. We're extremely pleased to partner with MyApiary to support them in reaching their full business potential," comments Gallagher Chairman and CEO, Sir William Gallagher.
The investment comes at an opportune time for MyApiary as they near the commercial release of their operations management system for beekeepers.
Developed in partnership with several leading beekeeping businesses in New Zealand, the software will bring a step change in the way beekeeping businesses manage their teams, assets and production performance.
"Working with the industry has been a huge part of our journey", says MyApiary founder Darren Bainbridge. "It has been an exciting journey learning about the specific needs and challenges faced by beekeepers in New Zealand. We've made a big shift in our approach through industry involvement".
The completion of the first capital raising round now means MyApiary can add more resource behind several other innovative and smart technology products designed to benefit beekeeping businesses.
One of these projects under development is an integrated hive monitoring system that transmits valuable data and information on the state of a beehive into the online operations management software. The hardware and software products work together as a complete business intelligence ecosystem which provides beekeepers a rich and comprehensive decision making tool. The development project has recently gained a $100,000 grant from Agricultural Marketing Research and Development Trust (Agmardt) and sees a number of senior members of the beekeeping community collaborating to develop the product.
"We are so pleased to have such experienced and supportive investors involved in our business", comments Darren. "This is an exciting time to be working in the apiculture industry in New Zealand. The growth is staggering and while there are many innovations occurring, the need for an integrated smart-business solution is huge. Our investors see this vision also which has been a real boost. In working with our industry partners, we're confident that these tools will create a step change in the way beekeepers operate and manage their businesses".
Formed several years ago, MyApiary was born out of a passion to help transform the way beekeepers made decisions through technology. "I have always been passionate about bees and it was while I was working as a product design engineer in another start-up company that I started having ideas about the different ways technology could make big differences to current beekeeping practices. Since then I've left my job in Auckland, got married and moved to Hamilton to focus on the future of MyApiary. It has been an exciting journey!".
About Gallagher:
Inspired by CEO Sir William Gallagher and proudly pioneered in the Waikato, Gallagher uses the practical genius in their blood to deliver ingenious solutions that create new opportunities.
Gallagher's roots date back to the 1930's when a horse called Joe decided to use the family car as a scratching post. Bill Gallagher Senior was inspired to solve the problem by electrifying the car and the concept for the world's first electric fence system was born.
Almost 80 years later and with a worldwide workforce of over 1,000 people, Gallagher are a global leader in the Animal Management, Security, and Fuel Systems sectors with customers in 130 countries. For more information, please visit gallagher.com.
About NetValue Limited:
NetValue Ltd was incorporated in 2004 with the aim of building a world class software development and online services group. Since inception it has pursued strategic businesses and in doing so has acquired, founded or invested in several key technology companies, such as ReelTwo Ltd (high-end database development and high performance search technology), Real Time Genomics Ltd (high performance DNA analysis solutions), InterSpeed & Webspring (website development, hosting and domain name registrar) and CodeLingo Ltd (enhancing software development quality). For more information, please visit www.NetValue.nz.